Art and scripture often work hand in hand to share and reinforce religious beliefs. Explore our Come Follow Me selections for this month to see how art and scripture can support one another in creating spiritual meaning.
October 31 - November 6
CFM NOV.jpg
James Jacques Joseph Tissot (1836-1902), Michel Simonidy (1870-1933), 'Daniel in the Lions Den' c. 1896-1904, gouache on board, 7 4/7 x 11 in, The Jewish Museum, New York. Featured in the 'Prophets, Priests, and Queens' exhibition.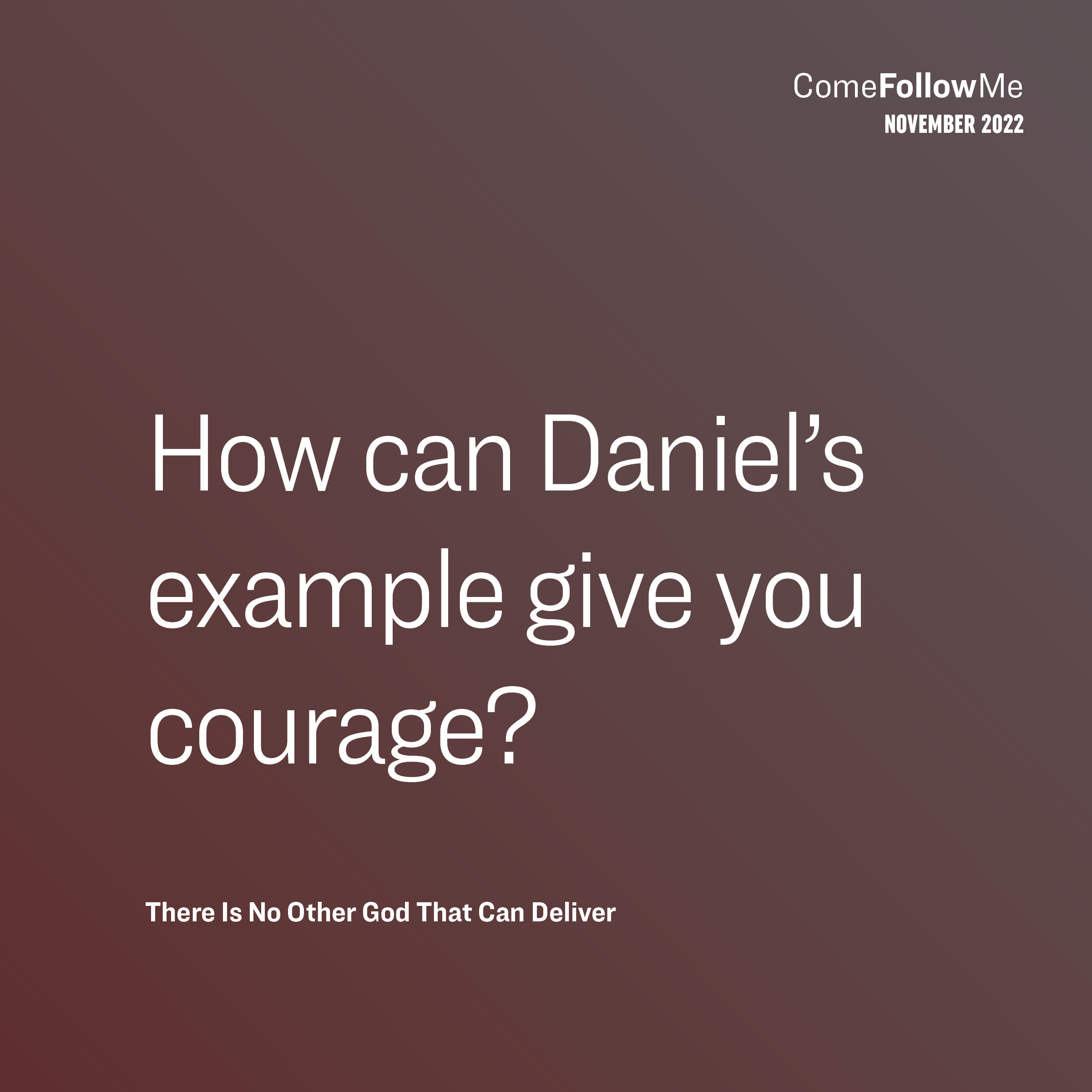 As an exiled Hebrew in the Babylonian Empire, Daniel prioritized his faith despite social and political pressure. Because of his integrity and inspired work, he rose to prestige in the Babylonian court. When jealous officials manipulated King Darius to outlaw worship of any gods, Daniel did not conform, and the faithful Israelite was cast into a lion's den, a then-common method of execution.
James Tissot depicts Daniel from behind, facing six large male lions who sit passively. His faith and calm assurance in God's deliverance are apparent in his casual posture, hands clasped loosely behind his back. Daniel trusted in God's will to protect him, and "God … sent his angel, and … shut the lions' mouths"—allowing him to remain unharmed and causing the king to decree that all should honor and revere "the living and eternal God" (Daniel 6:22,26).
What opposition have or do you face as you try to live a life of faith? How can Daniel's example give you courage?
November 7-13
CFM NOV3.jpg
Albrecht Dürer (1471-1528), 'The Prodigal Son Amid the Swine,' c. 1496, engraving, 9 7/16 x 7 7/16 inches. Brigham Young University Museum of Art, purchase/gift of the Mahonri M. Young Estate, 1959.
In Hosea, God compares His commitment to His covenant people with a marriage—a full-hearted and deep bond characterized by devotion, enduring love, and forgiveness: "I will heal their backsliding, I will love them freely" (Hosea 14:4). In the New Testament, Jesus conveys a similar message of love and mercy in His parable of The Prodigal Son, illustrated here by Albrecht Dürer.
Dürer depicts the prodigal son after he has lost everything. He kneels amid the pigs in a barnyard humbly realizing the goodness he forsook by leaving home. The young man lifts his hands in prayer, trusting in the mercy of his father to accept him back, which the father does with compassion and rejoicing (see Luke 15).
In what ways can you open yourself up to God's love? How can we be more merciful towards ourselves and others?
November 14-20
CFM NOV5.jpg
Minerva Teichert (1888-1976), 'The Three Wise Men,' 1937, oil on canvas, 60 x 45 inches. Brigham Young University Museum of Art, 1943.
The prophet Amos records the Lord's petition: "Seek ye me, and ye shall live" (Amos 5:4), inviting us to pause and consider what the process of seeking really entails. The account of the Wise Men found in Matthew 2 is a timeless example of individuals who sought after Jesus Christ. Minerva Teichert's image of their journey alludes to important elements of seeking: they exercised faith in the sign of a star and undertook a journey to Christ, leaving behind other interests. Teichert shows one man looking towards the star, confirming their route, as the others gaze ahead, resolute in their path. One rider holds his elaborate gift box close, a reminder to us that their quest was motivated by love and a desire to worship.
What does seeking the Lord look like in your life?
November 21-27
CFM NOV7.jpg
James Jacques Joseph Tissot (1836-1902), Charles Hoffbauer (1875-1957), 'Jonah,' c. 1896-1904, gouache on board, 9 7/8 x 4 7/8 in, The Jewish Museum, New York. Gift of the heirs of Jacob Schiff. Part of the 'Prophets, Priests, and Queens' exhibition.
Have you ever felt resentful or scared about the what the Lord asked of you? Jonah understood that feeling. Commanded to preach repentance in Nineveh, Jonah felt resistant to the Lord's desire to offer mercy to the Assyrian people and instead boarded a ship to distant Tarshish. When a violent storm arose at sea, Jonah was thrown overboard and spared from death by being swallowed by a great fish. From the fish's belly, the prophet humbly pled for mercy and was pardoned.
Tissot represents Jonah being spewed onto dry ground, after three days inside the fish. His eyes are closed, arms extended upward, as if still in prayer.
How can we open our hearts to consider the Lord's challenging requests with new eyes?