In 2023, members of the Church of Jesus Christ of Latter-day Saints will be studying the New Testament as part of the Come, Follow Me program, and the MOA is delighted to join in the fun! As art and scripture can work hand in hand to share and reinforce religious beliefs, we are pleased to select artworks from our collection to accompany each chapter of Come, Follow Me. Below you'll find our Come Follow Me selections for this month alongside thoughtful commentary and questions written by members of the MOA team. We hope that art-lovers everywhere will be inspired by these artworks as they complement their gospel study, family discussions, and church classes with fine art from around the world.
December 26 - January 1
CFM JAN.jpg
Cornelius Kruseman (1797-1857), 'Christ in the Home of Mary and Martha,' 1853, oil on canvas, 119 x 79 inches. Brigham Young University Museum of Art, gift of Brent and Bonnie Jean Beesley Family, 2019.
The MOA is delighted to announce that we will once again share weekly artworks following along with the 'Come, Follow Me' program in 2023. We're thrilled to dive into the New Testament with you this year through a wide variety of artistic styles and eras each Sunday.
We hope that these artworks will be a blessing to each of you in your personal, family, and community scripture study. As depicted in this painting of Mary and Martha by Cornelis Kruseman, we hope that this program will help you sit "at Jesus' feet" as you choose "that good part" (Luke 10:39, 42) in your study of the life and teachings of Jesus Christ.
What do you hope to gain from the scriptures this year? How can our 'Come, Follow Me' artworks better serve you?

January 2-8
CFM JAN3.jpg
Beatrice Parsons (1870-1955), 'Annunciation,' 1897-99, oil on canvas, 45 1/8 x 72 1/2 inches. Brigham Young University Museum of Art, purchased with funds provided by Thomas R. and Diane Stevenson Stone, 2007.
In Christian tradition, Mary is often portrayed wearing blue and red, and angels often are shown in white. In this painting by Beatrice Parsons, those colors are flipped; Gabriel wears Mary's colors, while Mary is clothed in a pure white gown.
Take some time to review Mary's words and actions in Luke 1. Why do you think Parsons chose to depict Mary in this way?

January 9-15
CFM JAN5.jpg
Henry Ossawa Tanner (1859-1937), 'At the Gates (Flight into Egypt),' c.1926-1927, oil on panel, 26 11/16 x 19 1/16 inches. Brigham Young University Museum of Art, purchased with funds provided by Stanford C. Stoddard, 2019.
Jesus' birth is often depicted as peaceful, but as Matthew 2 shows us, peaceful times did not last for the small family. Impending violence forced Mary, Joseph, and the Christ Child to flee when he was still quite young.
This painting by Henry Ossawa Tanner shows a small scene on their journey to Egypt. Despite the tumult of the occasion, Tanner's painting exudes an air of tranquility.
Most Christians celebrated the birth of Jesus only a few weeks ago. What did you learn about the Savior this last Christmas?

January 16-22
CFM JAN7.jpg
Yoshio Mankino (1869-1956), 'Tree in Moonlight,' 1910-1939, woodcut,11 3/4 x 8 3/4 inches. Brigham Young University Museum of Art, purchase/gift of Mahonri M. Young Estate, 1959.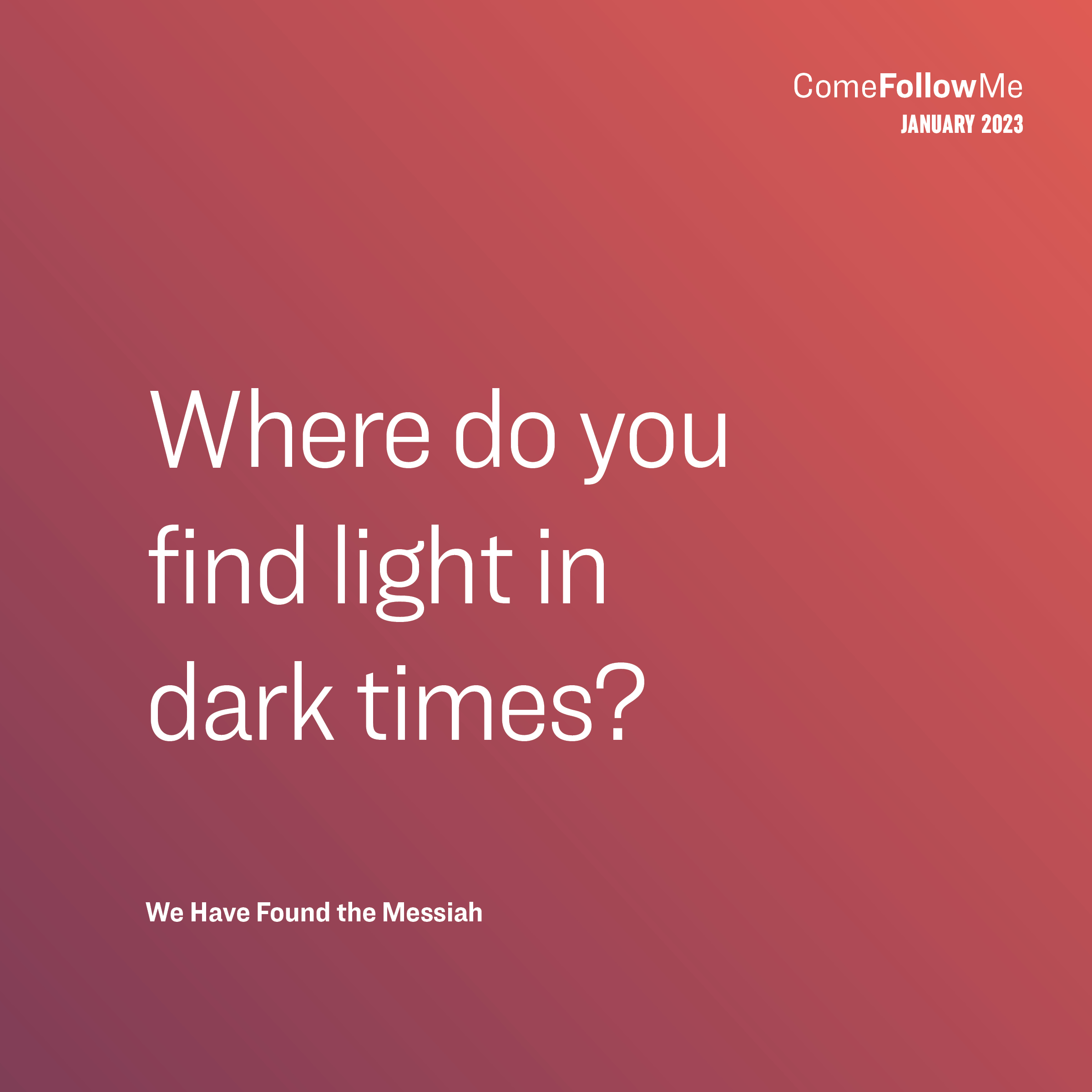 Jesus was born in a nation under imperial occupation, and the people around him were desperate for hope in more ways than one. Though his deliverance was different than what many expected, he offered "the light of men. And the light shineth in darkness; and the darkness comprehended it night" (John 1:4-5). In this woodcut, the moon is surrounded by shadow, but its light carries hope and guidance during an otherwise dark moment. In a similar way, Jesus offers light to all who seek him, and he has given us tools to find the light that he offers.
Where do you find light in dark times?

January 23-29
CFM JAN9.jpg
Artus Wolffort (circle of), 'The Trinity,' early 17th century, oil on canvas, 45 x 34 1/2 inches. Brigham Young University Museum of Art, purchase/gift of Gloria Teichert with funds provided by Jack R. and Mary Lois Wheatley, 2004.
All three members of the Godhead were present for Jesus' baptism: "Jesus… went up straightway out of the water: and, lo, the heavens were opened unto him, and he saw the Spirit of God descending like a dove, and lighting upon him: And lo a voice from heaven, saying, This is my beloved Son, in whom I am well pleased" (Matthew 3:16-17).
Those three figures are also portrayed in this painting by Artus Wolffort. Look at each one of them in turn. What does this painting teach us about each of their attributes?