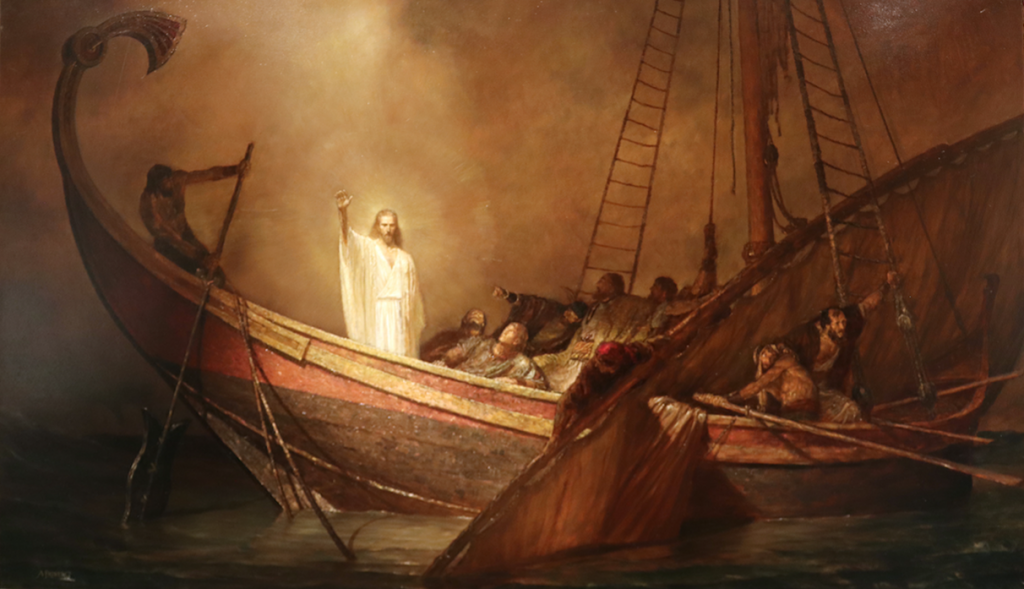 The BYU Museum of Art is thrilled to announce the acquisition of two new iconic paintings: Arnold Friberg's Peace, Be Still and Herbert Gustave Schmalz's
The Return from Calvary. These large, powerful images portray the aftermath of two well-known and poignant stories from the four gospels: the Savior's miracle of calming the tempest and the crucifixion of the Lord Jesus Christ, respectively.
In Friberg's painting, Christ stands authoritatively on the ship deck, His arm still outstretched toward heaven, illuminating an otherwise darkened scene. In response to the Savior's command, the storm-wracked ship now floats calmly on the waters, as his disciples look on in wonder. Rather than portray the scene at the height of the storm as many other depictions do, Friberg focuses on the calm invoked by Christ, inviting the viewer to consider the power and majesty witnessed by the disciples and the important relevance for their own lives. His title comes from Mark chapter 4:
37 And there arose a great storm of wind, and the waves beat into the ship, so that it was now full.
38 And he was in the hinder part of the ship, asleep on a pillow: and they awake him, and say unto him, Master, carest thou not that we perish?
39 And he arose, and rebuked the wind, and said unto the sea, Peace, be still. And the wind ceased, and there was a great calm.
40 And he said unto them, Why are ye so fearful? how is it that ye have no faith?
41 And they feared exceedingly, and said one to another, What manner of man is this, that even the wind and the sea obey him?

Friberg was a noted Latter-day Saint illustrator of historic and religious scenes who studied in both Chicago and New York art schools, where he learned from illustrator Harvey Dunn alongside other aspiring artists, including Norman Rockwell. He was later commissioned by then-General Primary President Adele Cannon Howells to create 12 illustrations of stories from the Book of Mormon, which have been heavily featured in Church literature and buildings, shaping the visual imagination of Church members for decades. He would also work as a designer for Cecil B. DeMille's film The Ten Commandments, which garnered him an Academy Award nomination for Best Costume Design (Color). Friberg produced a handful of images of Christ throughout his career, this being perhaps his most well-known.
The second painting, The Return from Calvary, focuses on the figures of John the Beloved, the Virgin Mary, Mary Magdalene, and two other disciples in the aftermath of Christ's crucifixion. The city of Jerusalem with its crowded streets sprawls out below, blanketed by the shadow of the oncoming storm. The small silhouettes of three crosses are just visible in the distance. John looks back at this scene in dismay, supporting the grieving Mother, who is clothed in a symbolic white shroud. The five figures each express their reaction to the harrowing scene in different ways as a darkening sky broods above. At over nine feet wide, the scale and theme of the painting ushers us into this moment of grief and loss. As His disciples grapple with the death of their beloved Teacher, Friend, and Son in that moment, we too are invited to consider the magnitude of Christ's suffering and the impact of His presence in our lives.
Herbert Schmalz, a British artist, painted the piece shortly after returning from a trip to the Holy Land in 1890. The painting met with great acclaim and was celebrated for its realism, its pathos, and the profound effect it had on its viewers. It toured throughout England and was even taken to Windsor Castle for a special viewing at the request of Queen Victoria.
"This impactful painting encourages us to imagine the reality of Christ's Atonement and its impact on the characters who loved him in scripture, but more importantly ourselves," said Ashlee Whitaker, Roy and Carol Christensen Curator of Religious Art at the MOA. "In Christian art, there is a long tradition of imagery focused on Christ's bereaved followers grieving over his body on the cross, after His death. This scene is somewhat unique in visualizing what must have been a long and painful return to their homes; perhaps not wanting to leave the cross or reeling with the overwhelming events of the days, it prompts us to put ourselves in that place. We felt this artwork a fitting contemplation for our times: who among us has not felt something of the anguish of unexpected loss or pain or uncertainty? In sitting with those feelings, we can be reminded of the hopeful ending to this particular story, which ensures a hopeful ending to each of our individual stories. It's ultimately the message of Friberg's painting, which we felt equally fitting for a 21st- century audience, the reminder that whatever storm may rage, Jesus Christ has the power to always bring peace."
The MOA thanks each of its patrons and donors, particularly Roy and Carol Christensen, whose generous funds were used to purchase Peace, Be Still, and the Wheatley Family, whose contributions secured The Return From Calvary at auction in London. Without the kindness of such benefactors, the Museum would be unable to share such meaningful works with visitors and online audiences throughout the world. We also give special thanks to the Floyd family, whose matron, Rose, was initially gifted Peace, Be Still by Friberg after caring for the artist while he was very ill. Before her death, she asked her grandchildren to find a place for the painting where many could appreciate it. "[We] could not be happier to share this gift with the students of BYU and the world," a family representative said. "We are forever grateful to Mr. Friberg for his artistry and for BYU in fulfilling her final request."
Both paintings will undergo routine conservation work before they can be incorporated into future exhibitions. Our curators are eager to put both of these masterpieces on display as soon as possible, so they can be fully appreciated in person by our visitors.

Artworks:
Arnold Friberg (1913-2010), Peace, Be Still, c.1960, oil on masonite 41 x 65 inches. Brigham Young University Museum of Art, purchased with funds provided by Roy and Carol Christensen, 2021
Herbert Gustave Schmalz (1856-1935), The Return from Calvary, no date, oil on canvas, 76 x 109 13/16 inches. Brigham Young University Museum of Art, purchased with funds provided by Jack R. and Mary Lois Wheatley, 2021.